LOFTS - EXTENSIONS - CONVERSIONS

A dormer (window) is an extension to the existing roof, allowing for additional floor space and headroom within the loft conversion.
Dormers protrude from the roof slope, normally at the rear of the property and can be built in a variety of styles. Internally, a dormer will have a horizontal ceiling and vertical walls compared to the normal diagonal sides of a conversion. In lofts that have limited space or headroom a dormer will provide additional space that can make a conversion feasible.
Flat roof dormers tend to give the maximum amount of additional internal space although they do not look as attractive from outside the property. Gable fronted and hipped roof dormers look much more attractive but they often do not give as much internal space and will cost more to build due the extra complexity.
Different types of dormer
Gable fronted dormer - these are sometimes called a dog house dormer
Hipped roof dormer - a dormer with a hipped roof
Flat roof dormer - you guessed it - it has a flat roof!
Shed dormer - a single planed roof that is pitched at a shallower angle to the main roof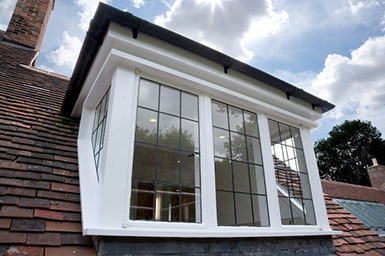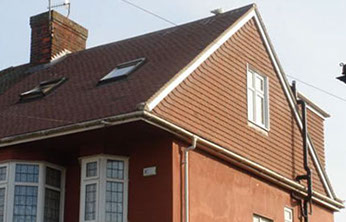 Which one shall I go for?
A mansard roof has two slopes, the lower slope is close to vertical at 72 degrees and the top section of the roof is almost horizontal.
This style of roof is named after a 17th-century French architect Francois Mansart (1598-1666) who used this design of roof on many of his buildings. A mansard roof has the advantage of maximising the available space within your loft.
Mansards are commonly built by raising the party/gable walls either side of your house to make the profile for the mansard and then creating the timber frame. Although common on older properties, especially in cities like London, Mansards are not often seen in the suburbs. Flat roof dormers tend to be a more popular choice for the 'average' 3 bed semi or terrace house due to the reduced cost and simpler construction. A mansard loft conversion will almost certainly require planning permission. Things to consider.
While this type of roof will give you the maximum amount of space in your loft conversion it does a downside. As it involves replacing the entire roof the constructions costs will be high. Therefore, it is quite unusual to see this type of conversion, unless the orignal roof was built in this style.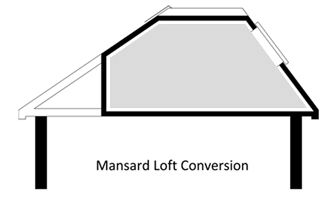 Velux and rooflight conversions are the same with Velux being a brand name. This type of conversion is generally very cost effective, is quick and simply and in most cases it does not require planning permission.
Rooflight Velux windows and easy to install and normally only require one of the existing rafters to be trimmed out per window. The Velux windows are installed to fit flush with the line of the roof and leave the existing roof structure untouched. As they do not require extensive alterations to the roof this option helps keep the cost of the conversion down. As the loft is not extended beyond the original roof line planning permission is not normally required (you should still check with your local planning department before proceeding with any works)
A velux type loft conversion works very well for lofts where there is a good amount of headroom or if there are constraints on planning, for example if you live in a conservation area. If headroom is going to be limited then either a dormer or mansard conversion may be a better option. Velux rooflights can be fitted quickly and easily meaning there is minimal disruption or delays due to bad weather.
As Velux windows are installed at the angle of the roof rather than vertically like a normal window they can let in a surprising amount of light. While this is great during the day and will give you a light and airy room it can become a problem at night or in the summer. Window blinds are available from various sources tailor made for Velux windows that perfectly fit into the window frame. You can even get blinds that have a thermal silver backing, great for retaining heat in the winter and keeping it out in the summer.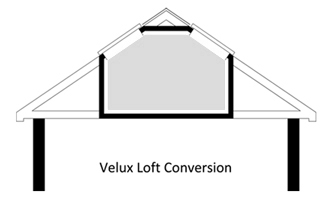 Hip to Gable Loft Conversions
Hip to gable loft conversions are becoming an increasingly popular way to create extra room in a property. But before committing to extending your home with this type of loft conversion, there are a number of things you need to know. Here, we take a look at what hip to gable loft conversions actually are, any limitations or restrictions you might need to consider, and also how to calculate the volume of these loft extensions.
Most properties have a regular, 'hipped' roof with a sloping side. This means existing loft space is often limited, making it difficult to create a loft conversion without extending your property. This is where hip to gable loft extensions come in.
This type of loft conversion extends your property on the sloping side, effectively replacing the sloping roof with a vertical wall (the gable) at the end to the same height as the ridge, and filling in the space in between. The added space can then be used for whatever purpose you see fit, although typically its big enough for an office, play area or an additional lounge space.
If your property has two sloping sides and you replace them both with vertical walls, it will be a double hip to gable loft conversion and will obviously provide you with even more additional space.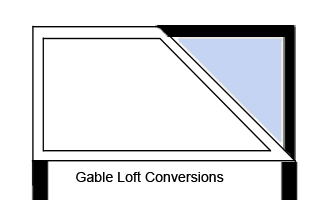 Extension
Extensions normally make the original room is usually longer. This means that natural daylight has further to penetrate into the house as the vertical windows are moved further away. All too often, the original room becomes dark and gloomy and even on the brightest days could mean electric lights have to be switched on.
Green Group Construction use roof windows, you can bring daylight deep into living space, which makes the whole room feel brighter, larger and more welcoming.
Porches
Porches are typically small extensions to the front of a house, although they can be much larger and can be built to the side or to the rear. They are generally simple structures of only brick dwarf walls and columns, windows and a door.
Extension - over-structure
An over-structure extension is, as it sounds, where you are extending over the top of an existing structure such as a garage, a kitchen, a living or dining room.
Extension - single storey
Single storey extensions are simply an extension built onto a part of the house whereby one side (or more) of the extension adjoins the property and there is only the ground floor plus any basement built to it.
Extension - two storey
A multi-storey extension can, like a single storey extension, also be built to any part of the existing building.
Contact
Green Group Construction
422A Upper Richmond Road West
Sheen
London
SW14 7JX


LOFTS - EXTENSIONS - CONVERSIONS