LOFTS - EXTENSIONS - CONVERSIONS

Hip to Gable Loft Conversions
Hip to gable loft conversions are becoming an increasingly popular way to create extra room in a property. But before committing to extending your home with this type of loft conversion, there are a number of things you need to know. Here, we take a look at what hip to gable loft conversions actually are, any limitations or restrictions you might need to consider, and also how to calculate the volume of these loft extensions.
Most properties have a regular, 'hipped' roof with a sloping side. This means existing loft space is often limited, making it difficult to create a loft conversion without extending your property. This is where hip to gable loft extensions come in.
This type of loft conversion extends your property on the sloping side, effectively replacing the sloping roof with a vertical wall (the gable) at the end to the same height as the ridge, and filling in the space in between. The added space can then be used for whatever purpose you see fit, although typically its big enough for an office, play area or an additional lounge space.
If your property has two sloping sides and you replace them both with vertical walls, it will be a double hip to gable loft conversion and will obviously provide you with even more additional space.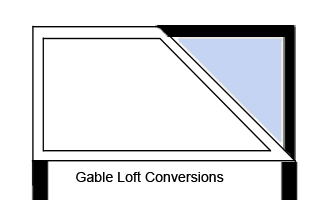 Hip to Gable Loft Conversion
Contact
Green Group Construction
422A Upper Richmond Road West
Sheen
London
SW14 7JX


LOFTS - EXTENSIONS - CONVERSIONS